Vaccines, The Fed and Oil – Oh Yeah!
May 27th, 2020 | Leave a comment.
Stock Market Cheers Vaccine Trial
Monday's rally came after hopeful news on a vacine for the coronavirus front came out
Moderna shares soared 20% to a record high after the biotech reported positive results from an initial-phase trial of its coronavirus vaccine. The biotech tested the vaccine in healthy adults and, in all age groups, participants began showing antibodies against Covid-19.
The stock market also liked the latest comments from Fed Chairman Jerome Powell. In an interview on CBS' "60 Minutes" Sunday, he said more steps are still possible to rescue the economy. "There's a lot more we can do," Powell said. "I will say that we're not out of ammunition by a long shot." There will still be good an bad from this blast to the economy which will have to be dealt with.
In another positive indication, the S&P energy sector took off more than 8% higher as oil prices climbed a rebound. Brent oil prices rose 7% to $34.82 per barrel. The supply cuts from major oil producers and the gradual reopening of world economies are helping to normalize the oil market.
Small caps also took off, rising noticeably with the possibility that smaller companies which were beaten down the worst ma be able to see the light.
The only dark shadow, leading stocks lagged far behind other issues. Still, we'll take it.
MARKET ADVANCE – Green Light.
Watching, Opportunistically!
Let's take a look at the Charts
S&P 500
Moved nicely through resistance at `2940 on the S&P 500 signalling a higher potential to move higher and an end to the recession. Keep in mind, the market still moves well before the economy and is the best leading indicator of the economy.
Whether the worst is over or we'll see a nice rise followed by a strong failure in the autumn is to be seen, but not worried about! Full steam ahead!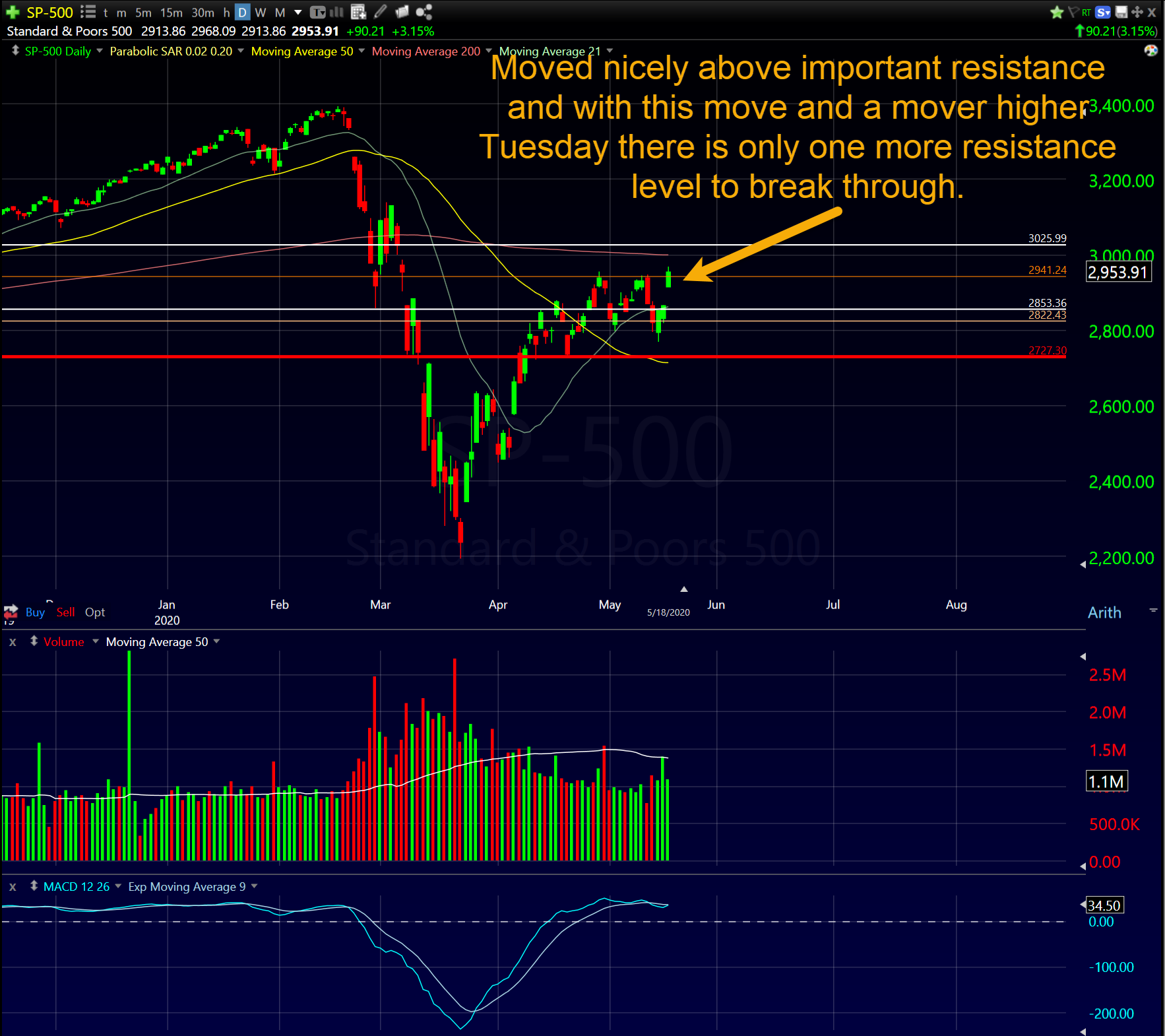 WealthSentry Advance
WealthSentry ETF 55, 70 & 85- Is a highly diversified portfolio of exchange traded funds holding a large number of equities in large, mid-cap and small cap as well as international and equities and a diversified selection of bond ETF's. 100% to target.
WealthSentry Low Beta Retire (Intelligent Diversification) is made up of low beta equities which have the potential to out perform the S&P using high quality names in energy, real estate, food. technology, defense and retailing. 100% to Target.
Thank you for being terrific clients, members and friends It's been a nasty ride. We've never been here before. Neither has anyone else. Hopefully, we can soon leave this behind, just like they did in 1918 and with that, be prepared for what's to come over the next 10 and `20 years……..
What we continue to see is the WealthSentry Retire portfolios are generally offering the best risk to reward scenario for our clients.
You're in WealthSentry – we're watching opportunistically.