Retail Sales drop 16.4% in April
May 22nd, 2020 | Leave a comment.
Amazon.com delivered the punch to many retailers. The coronavirus will knock many more of them off.
Even as malls and stores begin to reopen, the Covid-19 pandemic has taken a toll on an industry already battered by the shift to online shopping. More than two million retail jobs disappeared in April as many stores closed. The damage is clear Friday as the U.S. government reports what is expected to be one of the worst months for retailers since World War II.
Consumer spending tumbled a record 16.4% in April as the backbone of the U.S. economy retrenched amid the coronavirus pandemic. Economists surveyed by Dow Jones expected the advanced retail sales number to fall 12.3% after March's reported 8.3% dive already had set a record for data going back to 1992. The March numbers were revised to be not as bad as the 8.7% initially reported.
Some 68% of the nation's $21.5 trillion economy comes from personal consumption expenditures, which tumbled 7.6% in the first quarter just as social distancing measures aimed at containing the coronavirus began to take effect.
Friday's data showed that the slowdown continued into the first part of the second quarter as layoffs began to mount and consumers went into lockdown.
Roughly 100,000 stores are expected to close over the next five years—more than triple the number that shut during the previous recession—as e-commerce jumps to a quarter of U.S. retail sales from 15% last year, UBS estimates. The turbocharged shift to e-commerce is expected to further depress profit margins and accelerate a shakeout in a country that already had too much bricks-and-mortar space for an increasingly digital world.
Unfortunately, fear is also a disease. It is harder, much hard to quantify and can do much more damage than the coronavirus – as were beginning to see.
It is time to Adapt!
It is time to be Strong!
It is time to Carry On!
We are – AMERICA.
It's What We Do
Dawn your masks, wash your hands and stay away from the sick. As for the sick, stay home, get well, fight and come back. Help your family, friends & colleagues. We've been hard at work every single day, making sure you're taken care of, we're all taken care of – we have and we will carry on!
Buy some Oreo's from Walmart – support the economy and your portfolio!
We don't hold Amazon as it's Beta and potential volatility is much higher than the WealthSentry Retire targets, however, it is in the indexes in the WealthSentry ETF portfolios
Markets took off up to resistance.
Markets jumped off support yesterday and moved all the way back up to Resistance in a move that I hope will continue. Overall, it was a good move.
There is only one day of institutional selling on the Nasdaq (May 12). Despite the recent sell-offs, institutional selling hasn't been rampant. The S&P 500 added a couple of distribution days in this week's tumble. Thursday's bullish reversal is indicative of a solid uptrend.
MARKET ADVANCE – Green Light
Let's take a look at the Charts
S&P 500
Markets for the S&P 500 are staying above critical support and up to resistance. Generally, a good sign. Futures fell on bad retail data this morning. We'll see how it plays out this today.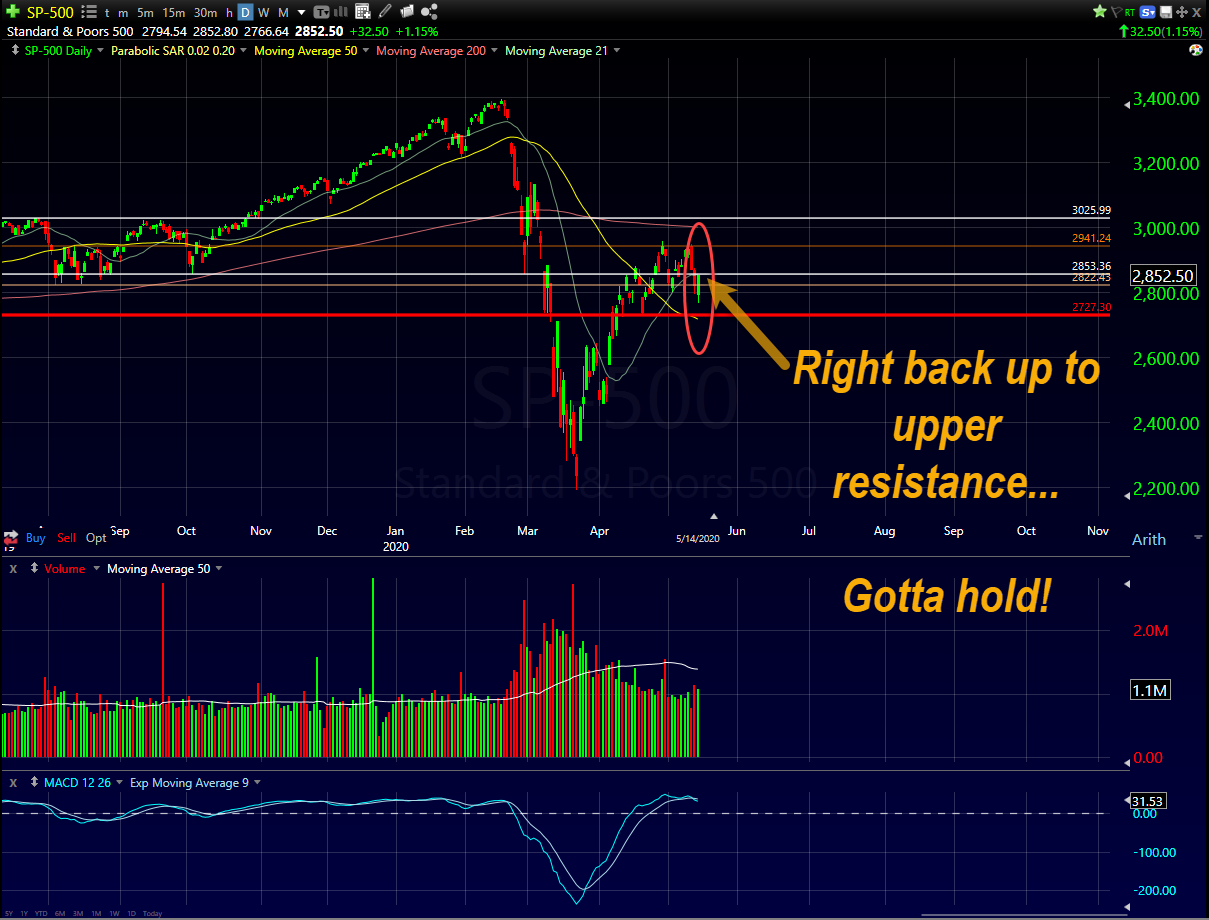 WealthSentry Advance – Cautiously
WealthSentry ETF 55, 70 & 85- Is a highly diversified portfolio of exchange traded funds holding a large number of equities in large, mid-cap and small cap as well as international and equities and a diversified selection of bond ETF's. 95% to target.
WealthSentry Low Beta Retire (Intelligent Diversification) is made up of low beta equities which have the potential to out perform the S&P using high quality names in energy, real estate, food. technology, defense and retailing. 95% to Target.
We will re-balance this portfolio today with the elimination of some of a few of the weaker companies and replacing with companies which offer more potential. More in the weekend report.
What we continue to see is the WealthSentry Retire portfolios are generally offering the best risk to reward scenario for our clients.
You're in WealthSentry – we're watching opportunistically.