No Featured Image
Pummeled by Powell
May 21st, 2020 | Leave a comment.
So far states that are easing coronavirus shutdowns aren't seeing a big spike in Covid-19 infections, though that might be too early to tell. Of course, states are not flipping a switch from complete shutdowns to fully open. Also, businesses and individuals continue to follow social distancing and wearing masks to a great extent.
Cases are rising sharply in Russia, which now has more than 252,000 confirmed Covid-19 infections. That's third behind the U.S. and Spain.
Coronavirus Stock Market Rally
The coronavirus stock market rally fell for a second straight session Wednesday. Unlike Tuesday's sell-off into the close, the major indexes pared losses in the final minutes as it appeared institutional buying stepped in at the last minute
Fed chief Jerome Powell said there are "downside risks" and long-term damage to the U.S. economy due to the coronavirus pandemic. He said more fiscal stimulus likely will be needed. Democrats and Republicans are divided over whether more coronavirus aid is needed, and what provisions might be in it.
The rollout of the first stimulus seemed bungled but considering the overall magnitude, the delivery was really pretty impressive. We live in a drive up to the window, get your whatever now society where if it isn't delivered immediately by prime or through a window after talking to a machine, it's not good enough. Where as ghosting is the norm and common courtesy is a thing of a bygone era…
Maybe a good ole fashion depression would reset some values, and manners. Hopefully, that's not what it takes.
ADVANCE
We're Watching – Opportunistically
Let's take a look at the Charts
S&P 500
The S&P 500 fell below and then recovered to finish at or above important, high level support and may break that level today based on futures activity. Again, futures do not always indicate specific intraday market action.
If this happens falling to the next level of critical support in red may be in line. Falling below that level would indicate a re-test of March lows.
Also, volume seems to be picking back up which could be indicative of more, continued institutional selling or at this level, supportive action.
It's still too early to tell if state lock down orders which are being eased will bring much of the economy back or bring a new rise in coronavirus cases which will make lock downs go back into affect. Further, those that want to work and get out, potentially increasing civil unrest may increase uncertainty.
Will the market play out to the fears and uncertainty or will it climb the wall of worry. I's too early to determine. Either way there is a plan.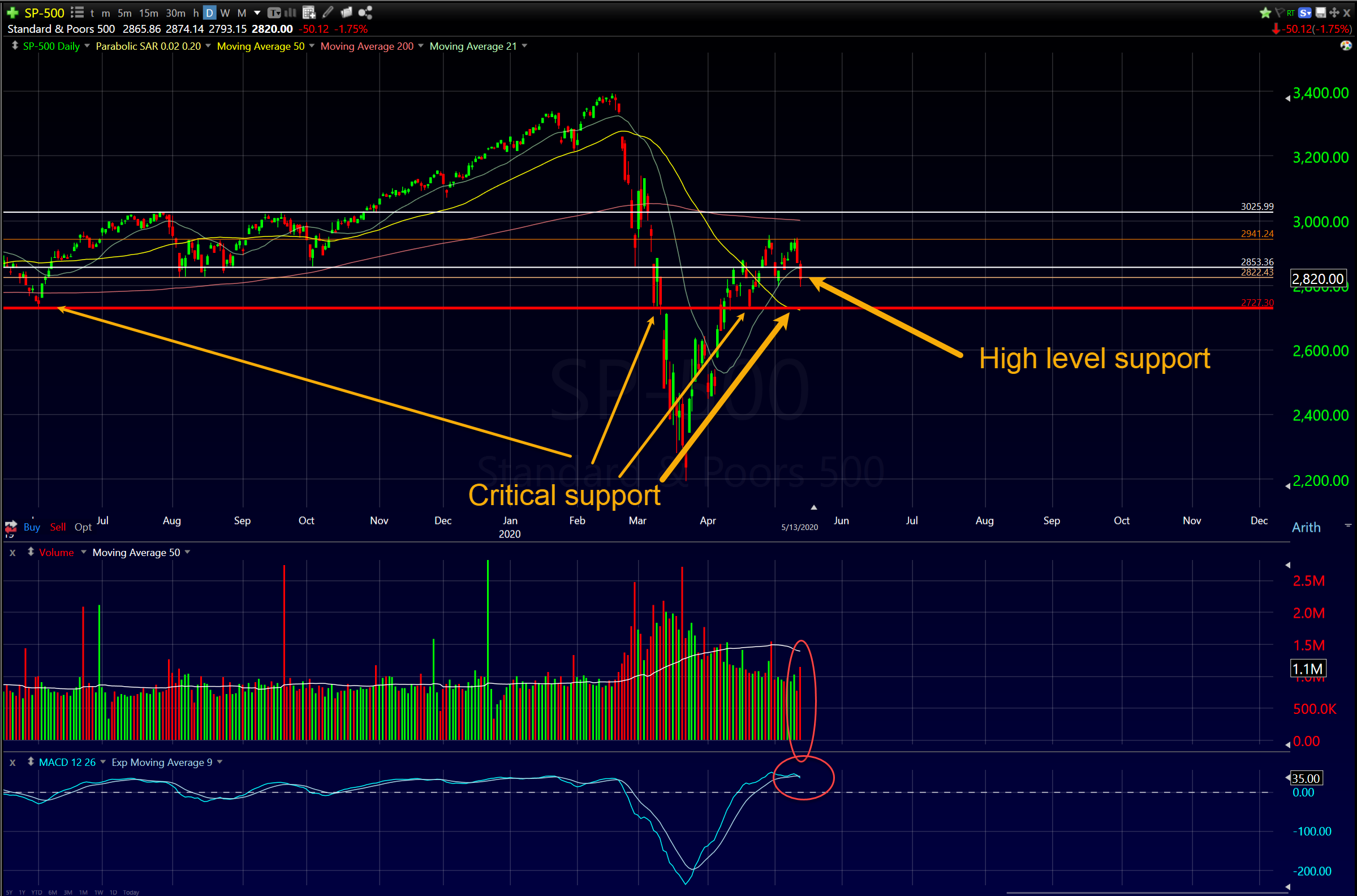 WealthSentry Advance
WealthSentry ETF 55, 70 & 85- Is a highly diversified portfolio of exchange traded funds holding a large number of equities in large, mid-cap and small cap as well as international and equities and a diversified selection of bond ETF's. 95% to 100% Target.
WealthSentry Low Beta Retire (Intelligent Diversification) is made up of low beta equities which have the potential to out perform the S&P using high quality names in energy, real estate, food. technology, defense and retailing. We will adjust the portfolio, eliminating five of the weakest names, introducing new, stronger companies. 95% to 100% Target.
What we continue to see is the WealthSentry Retire portfolios are generally offering the best risk to reward scenario for our clients.
You're in WealthSentry – We're watching opportunistically.