No Featured Image
A History Lesson
May 26th, 2020 | Leave a comment.
In 1907, the United States went into a nasty recession due to a historic Earthquake which destroyed much of the west coast, especially San Diego. The damage was so bad J.P. Morgan went to the Rothschild's of Europe for help.
In 2008, the world seemingly came to an end due to the Great Recession created by greedy bankers and run away stupid lending. The Federal Reserve (the New Rothschild's of the day) came to the rescuer, late, but come they did.
In 1918 a pandemic called the Spanish Flue ravaged the world and shortly after, the markets went into a fast and furious tailspin. It was not attributed ot the Flu, as far as I can tell, but the timing ws interesting.
Then, 102 years later, a pandemic called the coronavirus strikes the world. The world shuts down in over to fight the Virus. The economy sours faster than any thing on record. Was it due to the virus or the speed of information that changed the picture in this case?
Twain wrote and I've commented several times, History never repeats but sometimes it rhymes.
What does this say about the past? What does it say about the future?
The Market
The raging bull market passed its first key test. The Stock Market Update has consistently stressed the importance of staying above the 21-day moving average. Above it and the sun is out. Start living below it and it's time for the umbrella. For now, keep your sunglasses on.
An uptrend at its foundation is simply a series of higher highs and higher lows.
Therefore, we want our low to remain above Thursday's low at 8705 on the Nasdaq and eventually take out Tuesday's high of 9250. This doesn't have to happen next week.
Hopefully the market doesn't turn euphoric. Any break above the upper channel line would warrant caution. This is currently around 9600.
Focus on the price action with volume, not the news.When you hear all the negative talk about the market on TV or on social media, remember that's a good thing. Once everyone becomes bullish, there is no one left to buy. That's what happened in February.
The China trade war was settling down and Biden was a solid front runner in the presidential election race. Most of the news was in general, pretty good….. too good.
Then, the Pandemic hit!
It May be Early but Glimmers of Growth Emerge
There are signs the economic contraction caused by the pandemic, the steepest since the Great Depression, has bottomed out and a tentative recovery may be under way.
Though government data show record monthly drops in retail sales and manufacturing production in April, in a fast-changing environment new trends often appear first in private daily and weekly data. And although they are less reliable and comprehensive than government figures, these figures are showing some signs of a turning point.
For example, map requests on Apple Inc. devices fell 50% throughout the country between mid-January and the week ended April 9, but they have steadily climbed since then and are now down just 20%. While driving doesn't necessarily equate to spending, retail visits show the same trend, according to Unacast, a mobility-data analytics company: off more than 50% in mid-April from a year earlier, but down just 32% this past week.
Real-estate brokerage Redfin Corp. said home-buyer demand as measured by customers contacting affiliated agents, after plummeting by one-third, is now above pre-pandemic levels.
Off the bottom visits to retailers also report a turning point. On May 7, Uber Technologies Inc. said rides had risen for three straight weeks, and were up more than 40% from the trough in large cities in Georgia and Texas, which are starting to reopen businesses shut down by the coronavirus pandemic. Fast-food chain Wendy's Co. reported that same-store sales in the week ended May 3 were down just 2% from a year earlier. They were down 26% in the week ended April 5. (Both figure were aided by the introduction of breakfast in early March.)
Of course, rising sales aren't much comfort from a base of zero. A case in point: According to OpenTable, seated diners at affiliated restaurants in the U.S. had decreased 100% by April 9. The drop had "improved" to 95% by May 14. That clearly isn't a level of activity that many restaurants can survive. Still, a rise, no matter how low the starting point, is important.
It's what marks the end of a recession. A recession is a significant decline in activity across the economy, according to the National Bureau of Economic Research, which dates business cycles, and a recovery begins when activity turns up.
This cycle is especially unusual. In prior recessions, employment, spending and production declined gradually month by month, accumulating to a substantial drop. This downturn began with a sudden and historic collapse as people self-isolated or were ordered to stay home. Activity was bound to resume as those orders were lifted. That helps explain why stock markets began rallying in late March.
Oil prices are also signaling a revival of global growth: They have doubled since the end of April.
Is this the beginning of a continued move up from a major shock to the system. Even though there will be casualties which will never recover, a short history lesson is and let's hope was in the making. If so prepare for the ten years and especially the next 20.
They'll be interesting, I guarantee that!
We are cautiously optimistic about the future.
We're watching – Opportunistically!
Economic Overview
Minutes from the Fed, ECB and RBA will be in the spotlight next week, while central banks in China, Turkey, Indonesia, Thailand and South Africa will be deciding on interest rates. Meanwhile, flash PMI surveys for the US, UK, Eurozone, Japan and Australia will provide an insight into whether these economies recovered from April's historical contractions as several countries emerged from coronavirus-related lockdowns. Other figures to follow include US housing data; UK jobs report and retail trade; Japan Q1 GDP and trade balance.
Let's Take a Look at the Charts
S&P 500
Past important levels of resistance making them support. There are still a few more before the party really gets started but it's looking better and better. The S&P as well as the WealthSentry Retire have moved sideways for more than a month. Hopefully we'll see more upside soon.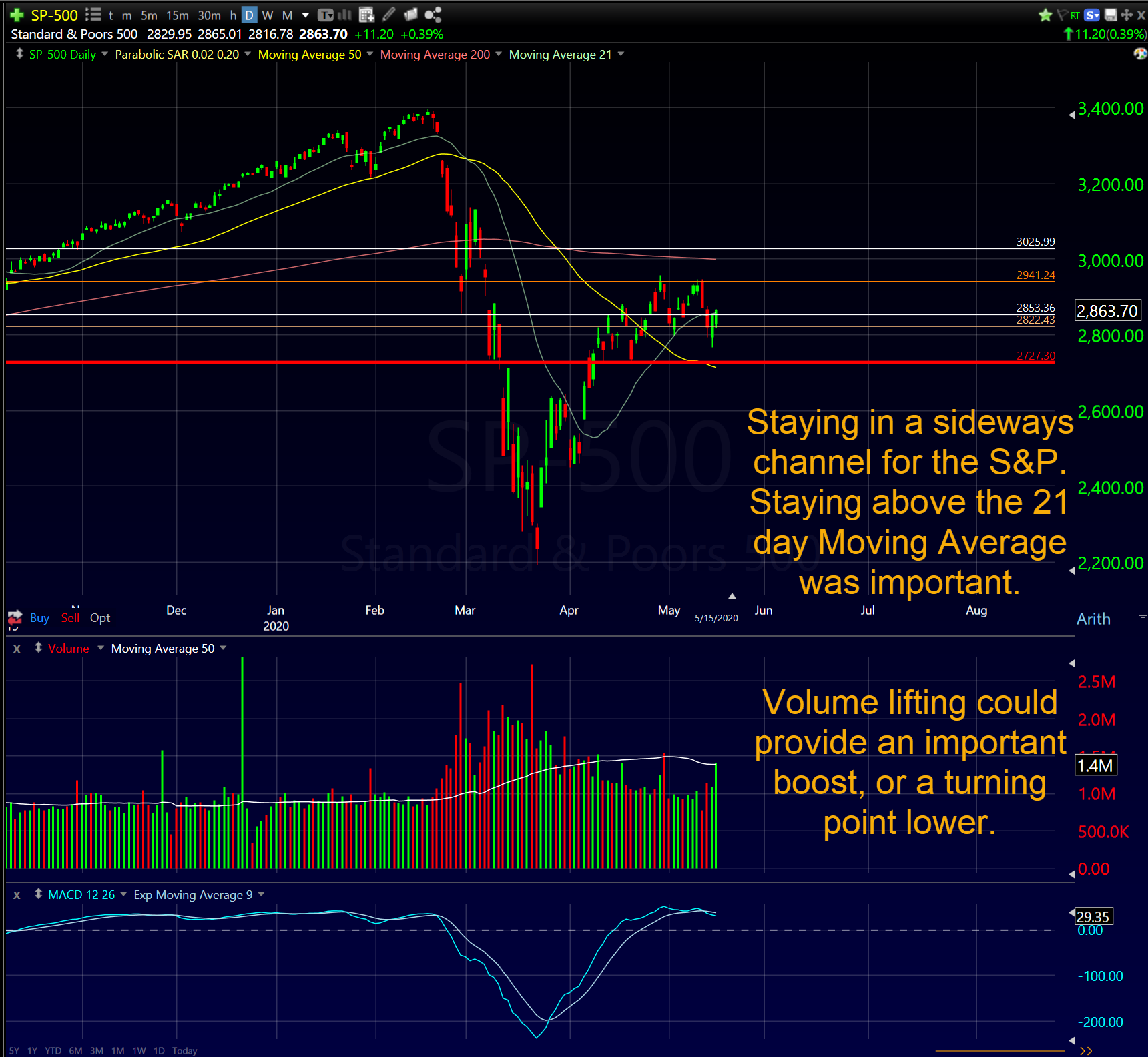 Nasdaq
The Nasdaq is still the strongest index, above important 50 and 200 day moving averages and added support levels.
Europe
Support for Europe moved higher this week but still could bounce around a bit here before making more moves one way or the other. Being above the 50 day and significantly below the 200 day moving average isn't good but better than last week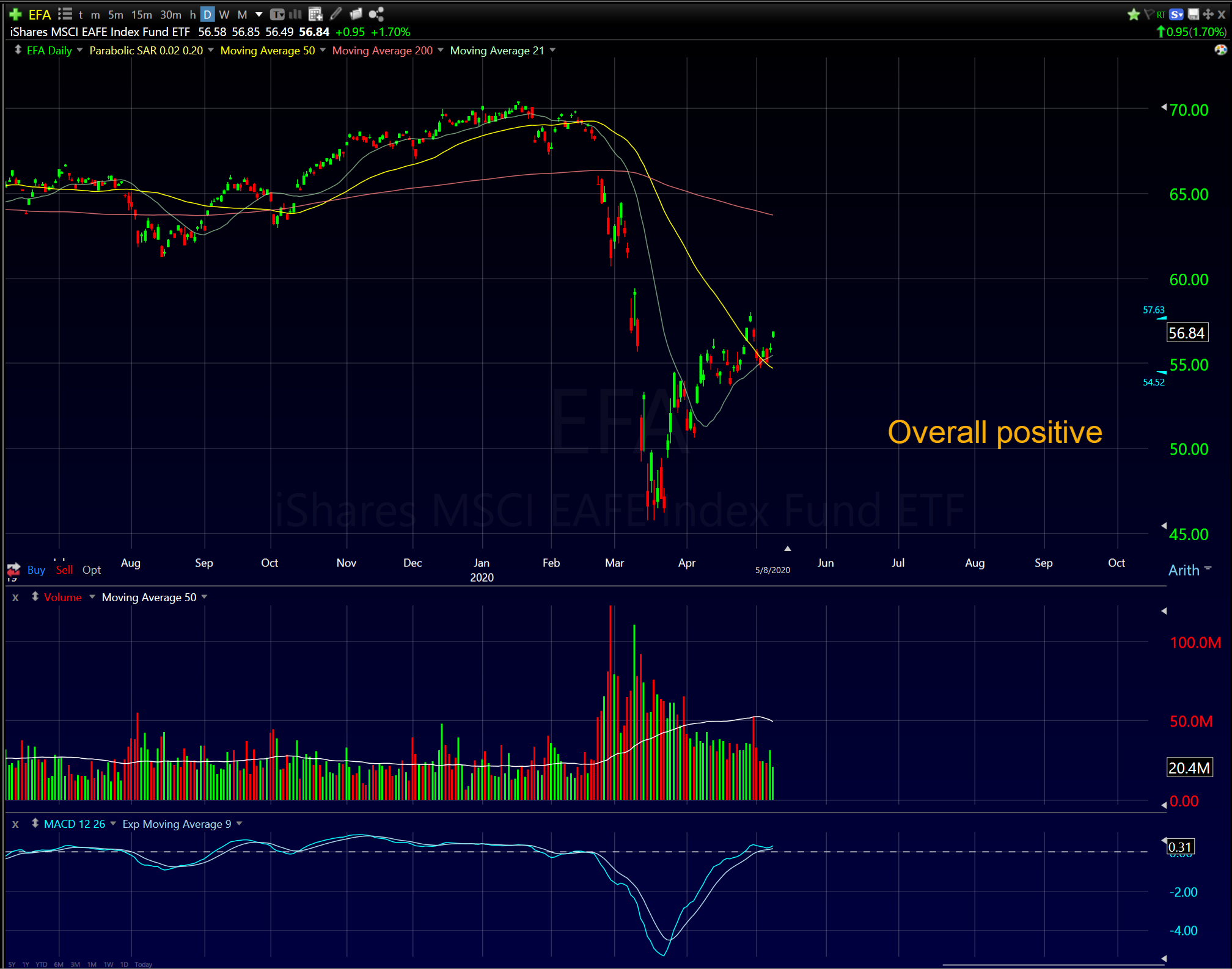 China
Still below some levels of resistance but above critical support is good, but still weak.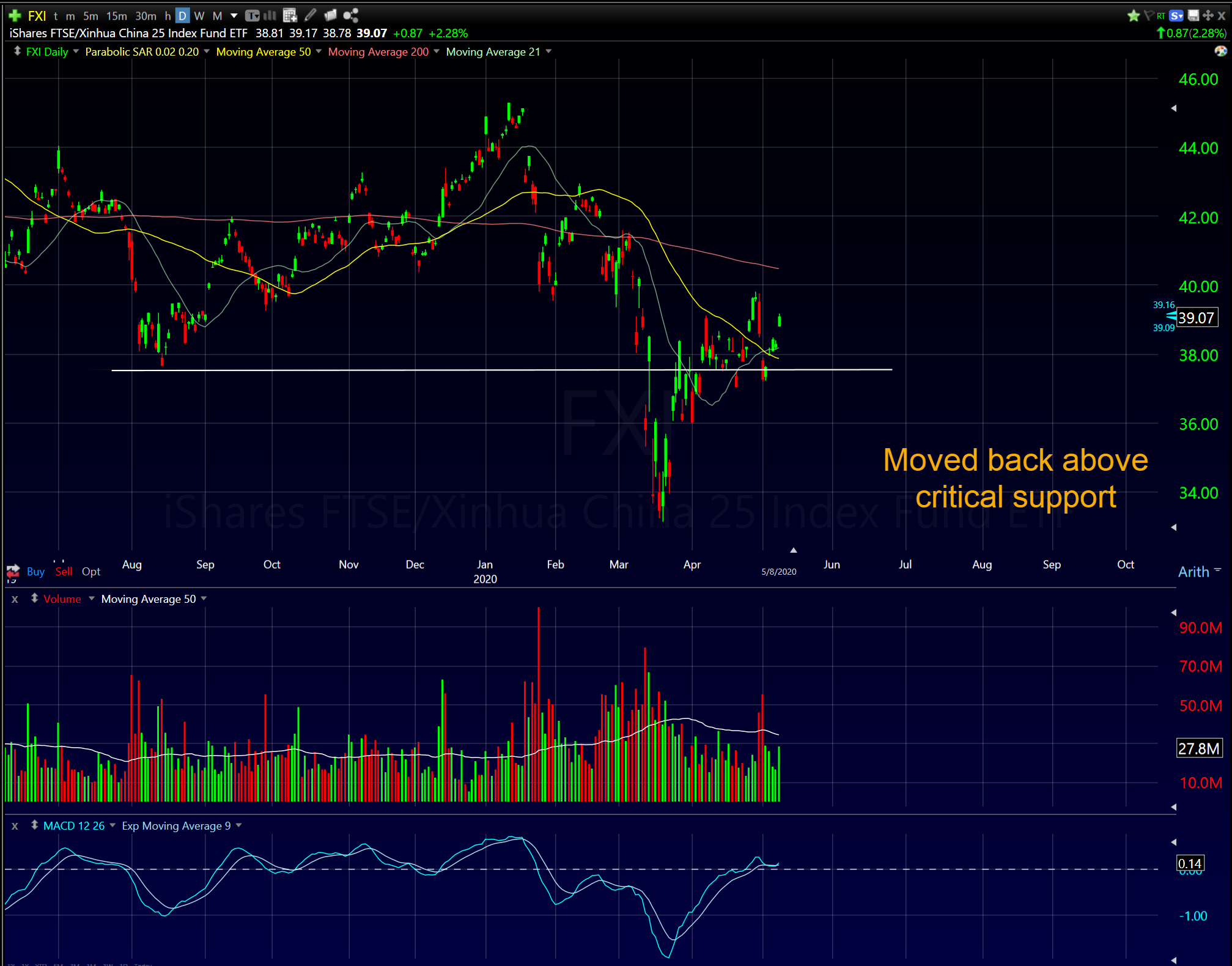 Portfolio Overview
WealthSentry ETF 55, 70 & 85: The portfolio is made up of several index based ETF's which are designed to follow the market but may be moved to a defensive posture. At this juncture we are positioned 95% to target allocations
WealthSentry Low Beta Retire ID: Series is positioned among 35 to 45 names of companies which historically pay dividends and historically reflect lower beta and volatility with the potential to produce solid results. It is diversified over several industries including foods, household products, mature technology, retail, defense and others to provide growth at a reasonable price as well as income. Positioned 95% to target.
WealthSentry Equity Opportunistic Series is higher momentum stock portfolios which have the potential to advance more aggressively based on what we consider to be the best leader companies today. It is being developed and will be introduced in the future when appropriate
WealthSentry Equity portfolios are designed for intelligent growth with income in advancing markets and the ability to shift to Defensive Portfolios including higher cash positions in falling markets.
We're in WealthSentry ADVANCE – watching cautiously opportunistically.